Household

Civilian Blankets

Coverlets
Nice period reproduction coverlets. These are nice lightweight pieces. Great for both home or in the field.
$140.00
Groundcloth
These groundcloths are painted one color and a bit simpler than the one above. They are 72"x48". These are great for both civilian and soldier for either keeping off the damp, cool ground or as a tarp. We offer hemmed and unhemmed ends.
Hemmed starting at
$65.00
Unhemmed edge starting at
$55.00
Containers & Carry-Alls

Wallpaper-covered "Band Boxes"
All of the boxes have the wallpaper outside covering and are lined with newspaper on the inside. Current in-stock colors include red/taupe (shown), red/white, brown, green, and blue.
All colors come in 6" or 3" high boxes. Additionally, the tallest boxes are 10" (red/taupe and blue), 9" (brown and green), and 8" (red/white).
Miscellany

Stearin Candles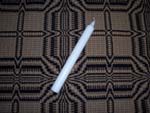 These candles are made of stearin just as period candles. They provide a long burning time and are straight, with no modern "fluting". Price per candle.
$1.50
BEESWAX CANDLES
We have, in stock, some really nice beeswax candles. They are about 8" long and ensures a good long burn
$2.00
Lucifers (Matches)

Handmade pasteboard box covered with marble paper. Contains matches and small slip of sandpaper for striking (as per original). Original in Sturbridge Village collection.
$8.00
Feminine Fripperies

Perfume Bottles

Reproduction period perfume bottles. Styles may vary.
$5.00