Clothing

Go to Equipage (2 of 2)
US Enlisted Frock Coat (#101)
Body of fine blue wool with piping, 1/8 inch wide, at the collar and cuffs indicating branch of service (shown here with sky blue for infantry). Nine buttons down the front, tow at each cuff and two at the back. Sleeves lined with muslin, the body has a half lining, stiffened and quilted, of brown or black polished cotton. Polished cotton pocket are placed in the skirts on either side of the rear vent All buttonholes hand-sewn. These can be piped for Infantry, Engineers or Heavy Artillery. There is no end to the handsewing in these uniforms-but when they're done right, they are very nice indeed. Sizes 38-48
$465
VRC Jacket
This jacket was that which was issued to soldiers in the Veteran Reserve Corps. This sky blue wool jacket is lined in domet wool flannel and a "dress" cloth in the sleeve. The dark blue wool trim is hand applied, as are the facings and buttonholes. Copied from one in a private collection. Size 40.
$400.00
US Issue Shirt
US issue shirt made of grey wool flannel. This shirt has a great deal of hand work, including topstitching, button holes, felled seams and rectangular stress reinforcements at the cuff and side vents. Complete with tin button closure. Up to size 48.
$140.00
M-1883 Blue(Campaign) Shirt
"What is a blue M-1883 shirt?" It's blue wool flannel with cotton lining in the chest. It is complete with two large pockets. This is THE shirt for Spanish American War, Boxer Rebellion and even early Spanish Civil War (Abe Lincoln Brigade). Size 38-48.
$145.00
Model 1872 Fatigue Blouse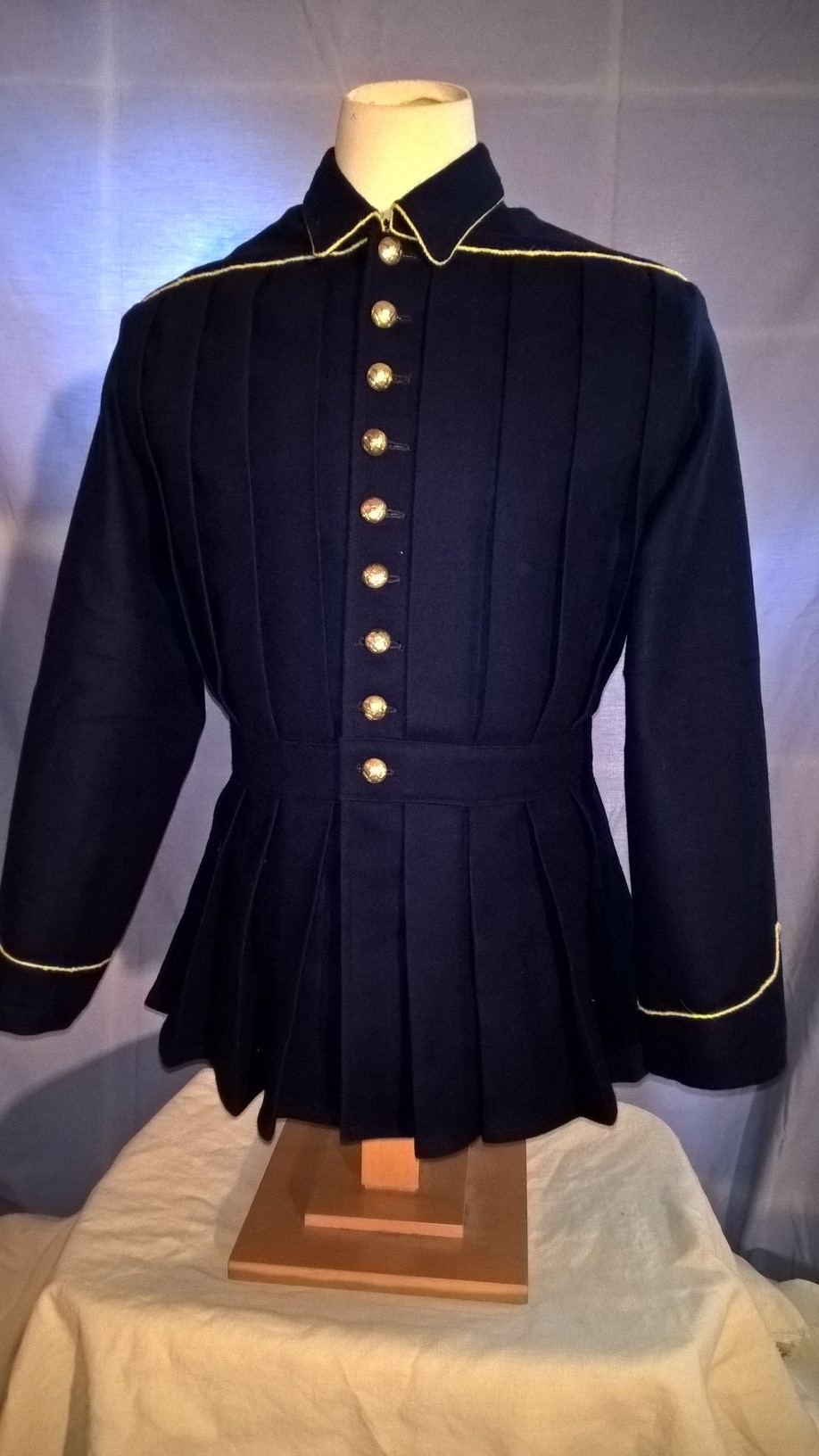 Most distinctive with its pleated body, nine-button front and half belt in back. Altogether there are three pockets; two in the skirts and one at the left breast. Corded trim, as per branch of service, at the collar, cuffs and the chest.
$465.00
Overshirts
Wool overshirts. Great item for when you need to do some work on the farm or in the shop, use for a militia "uniform" or just need some extra warmth. Made of grey, blue, red or brown wool flannel with button closures. Shown are are variations. Pockets, extra trimming are an additional fee. Please contact us for details.
Starting at

$165.00
Chevrons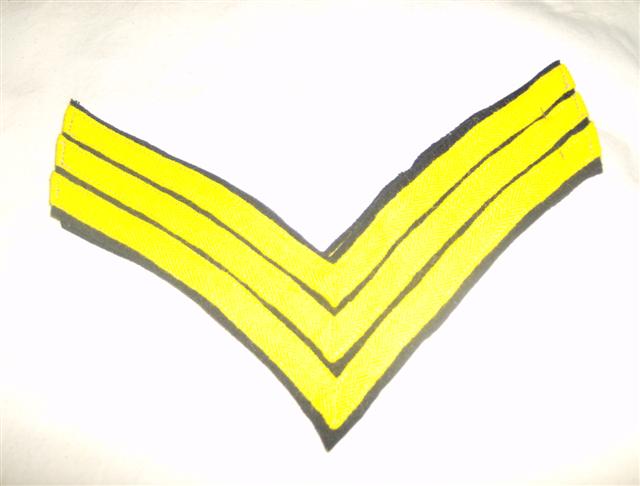 Cheverons made of worsted wool tape attatched to wool backing. Most are with dark blue backs. I have made some with a blue/grey back for those who want "CS chevrons". I will probably not make any more of the latter. If you do not see a rank or branch of service your looking for, contact us with your request
Corporal Chevrons
$25.00
Sergeant Chevrons
$30.00
1st/Orderly or Commissary Sergeant Chevrons
$35.00
Head Wear

Tiger jean Kepi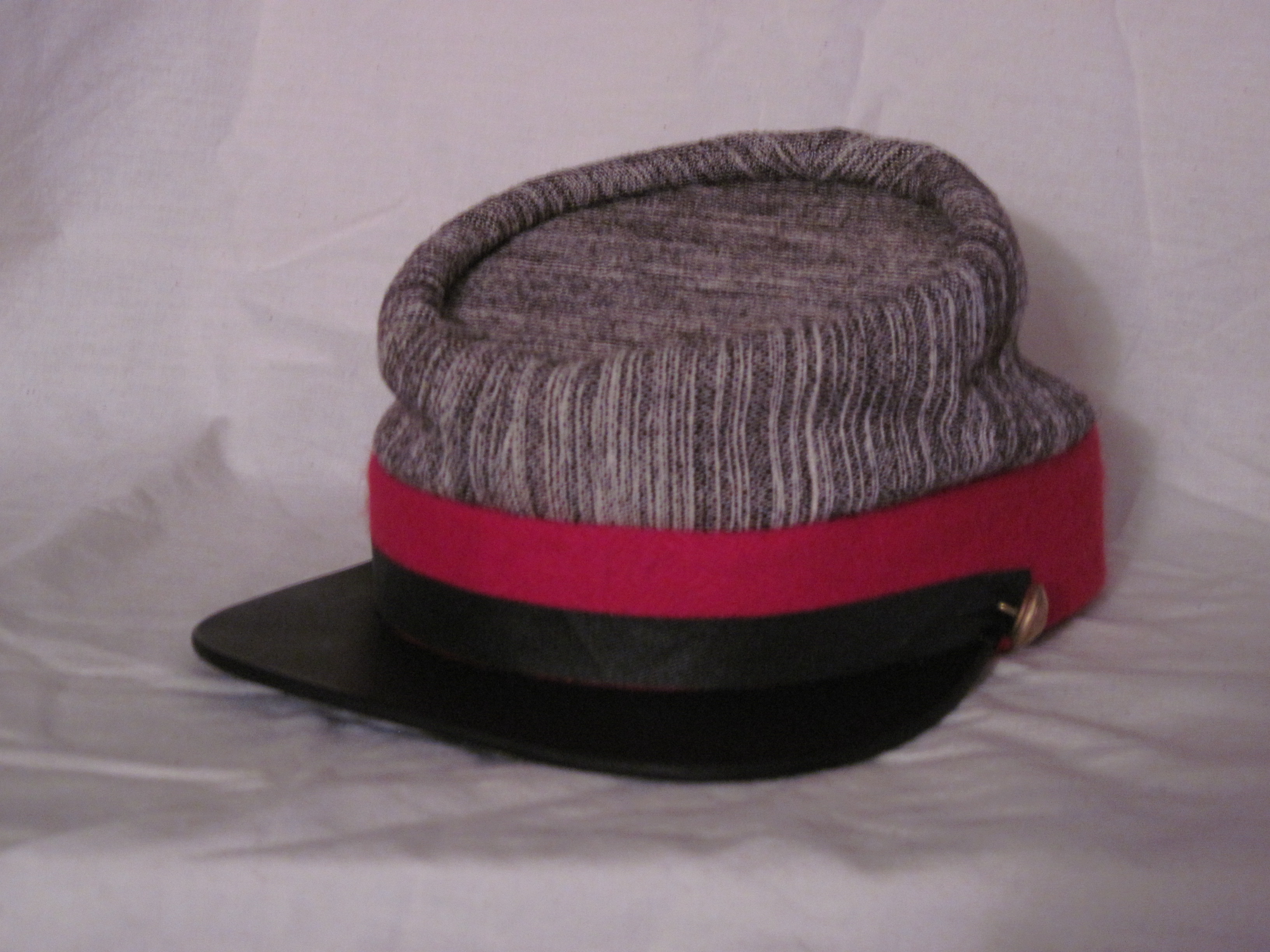 CS kepi of brown varigated or "tiger stiped" jean cloth. The lower band is of red satinette. Leather brim and oilcloth sweatband. Size 7 1/4.
$75.00
US Forage Cap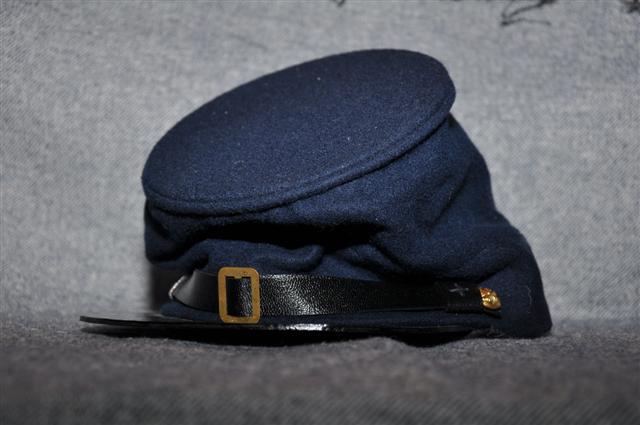 US Type I Forage Cap.
Made to order
$100.00